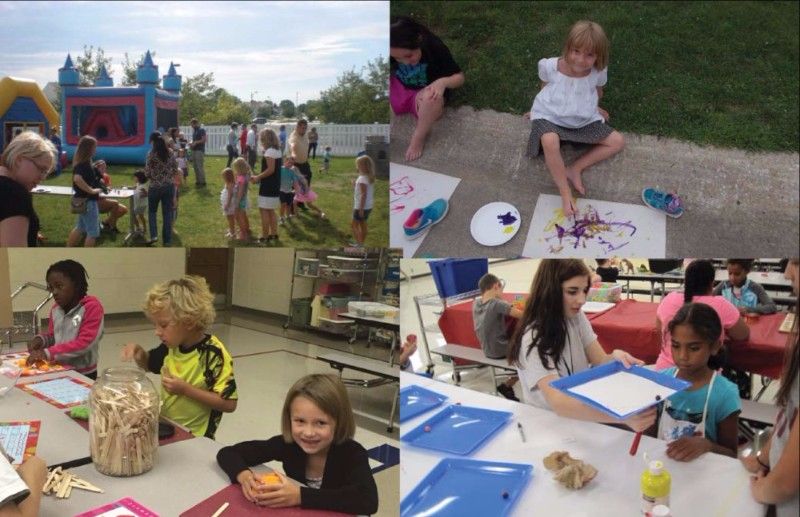 ECEC:
It's Our Birthday!
The Early Childhood Education Center celebrated our 8th year of business on August 18, 2016! What better way to celebrate then to throw a party. Our families were invited for a birthday celebration that included bounce houses, face painting, and games. Of course, you can't have a birthday party without cake and ice cream. We even saw some of our old students who were babies when we opened 8 years ago. We were pleased to have so many of our families come out and join us for an afternoon of fun!
Kids Network:
The school year is back in session and Kids Network is in full swing! At Kids Network we love exploring all sorts of ways to keep kids active and having fun! We've been having a great time with some non-traditional art activities! How about painting with your feet or maybe with a magnet? What about sculpting some yummy scented play-doh? I'd say we are off to a great start!
Millard Nations:
It was so much fun seeing familiar faces & meeting more Millard alum during Millard Days. The weather turned out to be fabulous & fun was had by all! Congratulations to Mel Oliva, Larry Baker, Jeff Athy, Rich Hansen, Tony Stearnes, Kim Anderson-Coe & Dan Freeman - they were all winners of Millard Nation gear! Speaking of gear...you can design your own Nation gear by visiting the marketplace at millardnation.mpsfoundation.org.
Foundation News:
Every year the district and Foundation staff show their continued support of our mission by participating in our staff campaign. The staff campaign kicks off this week, one hundred percent of the money donated will go back to the students and families in our district.
Last year we raised over $60,000 and had 1,230 people donate. We are excited to kick off the campaign this year and can't wait to share the numbers with you this fall.