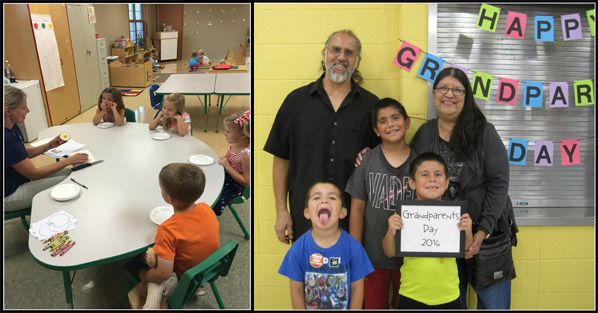 ECEC:
With the start of fall, we incorporate many themes and activities that bring fall into the classroom. A class favorite is our apple theme. Recently, the children got to sample different kinds of apples, participate in graphing activities to see which apple was the classroom favorite, and our children prepared a variety of cooking and baking recipes with apples. Our school was filled with the delicious smell of homemade apple crisp prepared by our children and served at snack.
Kids Network:
Family involvement events are a great way for families to experience some of the fun their children have at Kids Network. They also serve as great opportunities for our staff and family members to get to know one another. As we are now solidly into this school year, look for these events at your Kids Network site. We hope to see you there!
Millard Nations:
As an alumni and supporter of the Mustangs, Patriots, Wildcats and Millard Public School District, we would like to invite you to become a member and participate in one or all of the Millard Nations!
The Millard Nations and their members work to support the Mustangs, Patriots and Wildcats as well as each other. In the Millard Nations you will find news and information about upcoming Nation events, job boards, projects, exclusive spirit wear, opportunities to connect and so much more! Visit millardnation.mpsfoundation.org to join today!
Foundation News:
The mission of the Millard Public Schools Foundation is to guarantee sustainable resources to the Millard Schools. This year we are granting:
• $600,000 for school improvement grants with input from parents, teachers and administrators
• $325,000 to support students who challenge themselves with Advanced Placement and International Baccalaureate courses
• $150,000 to help sustain new technology purchases
• $105,000 to assist students in choosing college and career academies, including health sciences, business, education, and early college
The MPS Foundation Board also voted in May to support the new implementation of one-to-one technology in secondary schools with a gift of one million dollars.
The Foundation strives to be visible and integral to the world class district we serve. Please consider helping us with our mission to guarantee sustainable resources to the Millard school district so we can continue to offer a world class education.