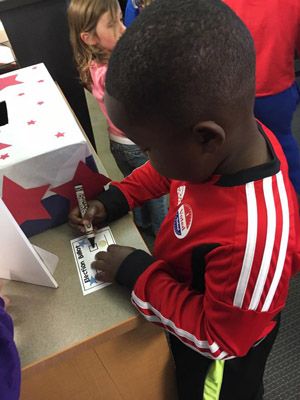 ECEC
The students at the Early Childhood Education Center had the opportunity on Election Day to step into the voting booth and exercise their right to vote...on their favorite cookie! It was chocolate chip vs. sugar. Many of our students had a tough decision to make, but chocolate chip won with 64% of the votes. To celebrate, the children had the winning cookie for snack.
KIDS NETWORK
Kids Network is thankful for our generous families and employees. We just wrapped up our school supplies donation drive in support of Project Wee Care and it was a tremendous success. Families and employees of our program collected nearly 3200 items which will directly benefit children in Millard through Project Wee Care. We thank you for your kindness.
MILLARD NATION
Calling all Millard grads from 1967 & 1968...your classmates are looking for you. Plans are underway to host your 50th high school reunion!
Class of 1967:
August 18 & 19, 2017
Contact Rich Hansen at 402.681.6239 for more information.
Class of 1968:
August 17 & 18, 2018
Contacts - Keith Snyder 402.670.4174, Duane Bergers 402.615.1002 or Andrea Betts @ jenolson@aol.com
FOUNDATION NEWS
Fall means crisp leaves and warm sweaters, but for some families fall can mean visiting college campuses around the country looking for the perfect fit for their senior. It is an exciting time for you and your child as they embark on their next journey in life.
Sometimes the thought of paying for college can be overwhelming. We are here to help! The Foundation offers more than $120,000 in Scholarships for Millard seniors. Applications will be available on December 1st at http://www.mpsfoundation.org/what_we_do/2015_scholarships/scholarship_app_instructions.html
If you would like to learn more about the scholarship program please contact the Foundation office at 402-991-6710.
#GivingTuesday is a global day of giving fueled by the power of social media and collaboration.
Celebrated on the Tuesday following Thanksgiving (in the U.S.) and the widely recognized shopping events Black Friday and Cyber Monday, #GivingTuesday kicks off the charitable season, when many focus on their holiday and end-of-year giving. If you are participating in #GivingTuesday we hope you will consider the Foundation. You can donate today at www.mpsfoundation.org.