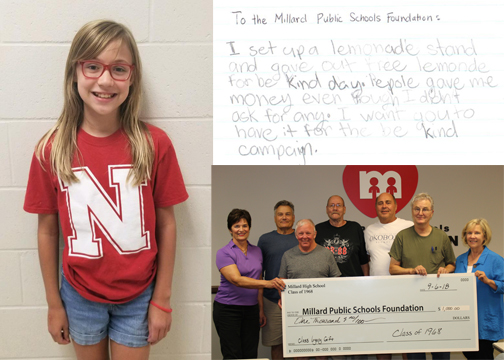 The MPS District staff along with the MPS Foundation staff are asked to participate in an annual giving campaign and every year we are blown away by the response. It is clear the staff believe in the mission of the MPS Foundation enough to invest in it. This is mission critical. Without the generosity of such dedicated people we would not be able to sustain the world class education that every Millard student receives.
We continue to be amazed at the generosity of our district and staff. They are dedicated to Millard students and families inside and outside of the classroom. #ExcellenceIsWorthTheInvestment  #Proud2bMPS
The Kids Network 'Korner':
The Foundation has received gifts of all kinds over the years but a recent gift we received reminded us why we are fortunate to work in the Millard community. Claire, a student at Upchurch Elementary and Kids Network participant set up a lemonade stand on the city wide #BeKind day. She said, "I didn't ask anyone for money but they gave it to me anyway. I want you guys to have it for the be kind campaign." Wow! Claire you make us proud and we promise to use your gift wisely. #BeKind
Millard Nation News:
The influence of a good teacher can never be erased. Although it's been 50 years since they were in his classroom, the Millard High class of 1968 still carries the influence of a beloved teacher and
long-standing Millard resident, Mr. Lyle Reed. The class of 1968 is honoring him by establishing a class legacy fund.
                                                   The Lyle Reed Legacy Fund
                                              Founded by the MHS Class of 1968
The intention of this fund will be to support the efforts of the Special Education Department at Millard Central Middle School. The hope is to provide equipment or materials that are not available within current district funding. If you would like to contribute to this fund, we invite you to contact the MPS Foundation at (402)991.6710.